JAKARTA, Indonesia - The casualty toll in Monday's magnitude 5.6 earthquake in Indonesia keeps rising.
At the latest count on Tuesday, 252 people have been killed and hundreds more injured, according to West Java district officials.
The epicentre of the quake, according to the United States Geological Survey (USGS), was near the village of Cianjur in mountainous West Java, about 75 km (45 miles) southeast of the capital, Jakarta. An estimated 2.5 million people live in the region. Monday's earthquake, which occurred at 1:20pm local time, was the fifth in the region in the past 15 years,
Thousands of homes have been destroyed in the latest quake. Rescuers are frantically trying to pull people trapped under buildings. 13,782 people have been displaced. A total of fourteen refugee camps to house those homes have been destroyed have been set up.
Around 2,500 homes have so far been listed as destroyed, while 4 schools have been badly damaged, according to the local office of the National Agency for Disaster Management (BNPB). A mosque and a hospital were also damaged, the agency said Monday.
Of the 252 confirmed dead so far, many are believed to have been schoolchildren who died when their schools collapsed.
The earthquake was felt in Jakarta, but no damage or casualties have been reported there.
Authorities have warned residents to beware of aftershocks.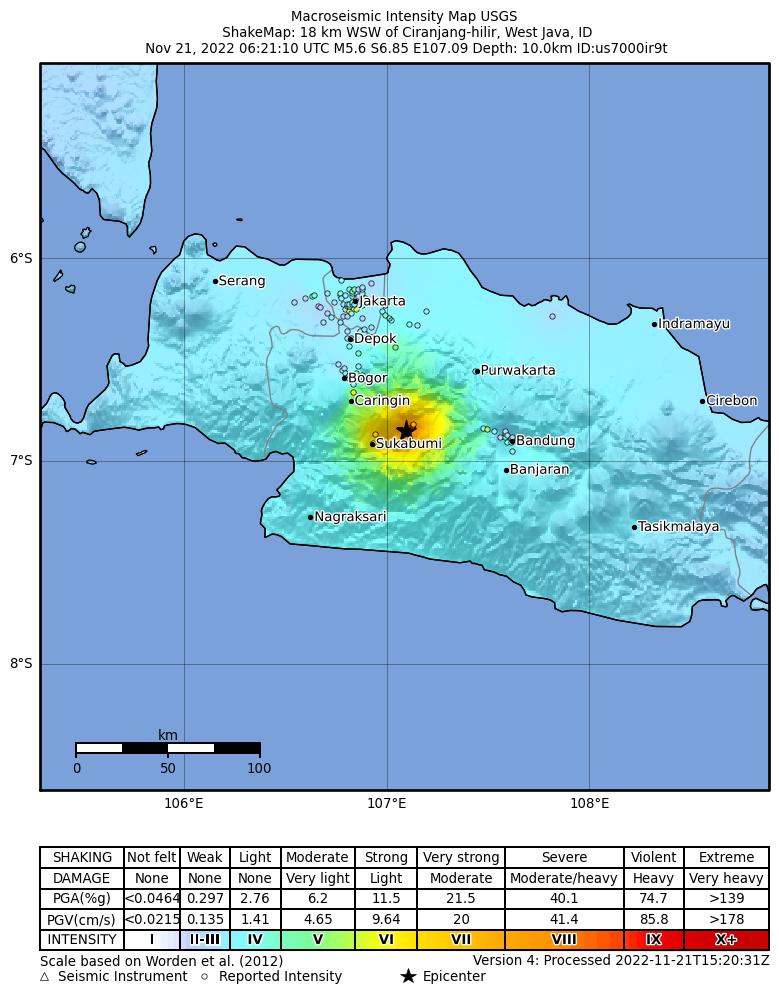 "The November 21, 2022, magnitude 5.6 Indonesia earthquake occurred at shallow depth as a result of strike-slip faulting within the crust of the Sunda plate. Focal mechanisms indicate that the rupture occurred on either a steeply dipping north-striking, right-lateral strike-slip fault or a steeply dipping east-striking left-lateral strike-slip fault. About 260 km southwest of this event, the Australia plate moves north-northeast at about 59 mm/yr with respect to the Sunda plate, subducting at the Sunda Trench," the USGS said in a statement Monday.
"This region of the plate boundary between the Australia and Sunda plates is highly seismically active. Past strong earthquakes have occurred within each of the Australia and Sunda plates, as well as on the plate interface. Since 2007, there have been four earthquakes of magnitude 6.5 or larger events within 250 km of the November 21, 2022, earthquake. The largest of these events was a magnitude 7.5 on August 8, 2007, which occurred at a depth of about 280 km within the subducted Australia plate," the USGS statement said.